How to Choose the Best Fabric for Heirloom Sewing
I remember going to fabric stores as a child with my mother who insisted on sewing only with 100% cotton fabrics that met her quality standards. We walked down aisles where bolts of fabric were neatly arranged, with the ends tucked in. She ran her hand under a layer of woven cotton. "Feel this one," she said, "and look at the print. It isn't crooked." (This one would pass the test.) As we shopped, if she saw a bolt out of order, she stopped to fix it. Well, I don't know what your local big box store looks like, but there isn't enough time in my mother's remaining years on this earth to fix the mess on the shelves at the fabric store where I live. And it has gotten much harder to find fabric that would meet her quality standards.
Quality is especially important for heirloom sewing. The tradition of heirloom sewing is based on the idea of making a garment that will be handed down through multiple generations. Often, heirloom garments mark special occasions such as weddings, christenings, or baptisms. Fine heirloom fabrics are also the best choice for Victorian and Edwardian era historical sewing. It's important to use good quality materials that will withstand traveling through the decades being worn, washed, and loved. You will also be happier with how your embroidery, lace insertion, and pintucks look when you use quality fabric.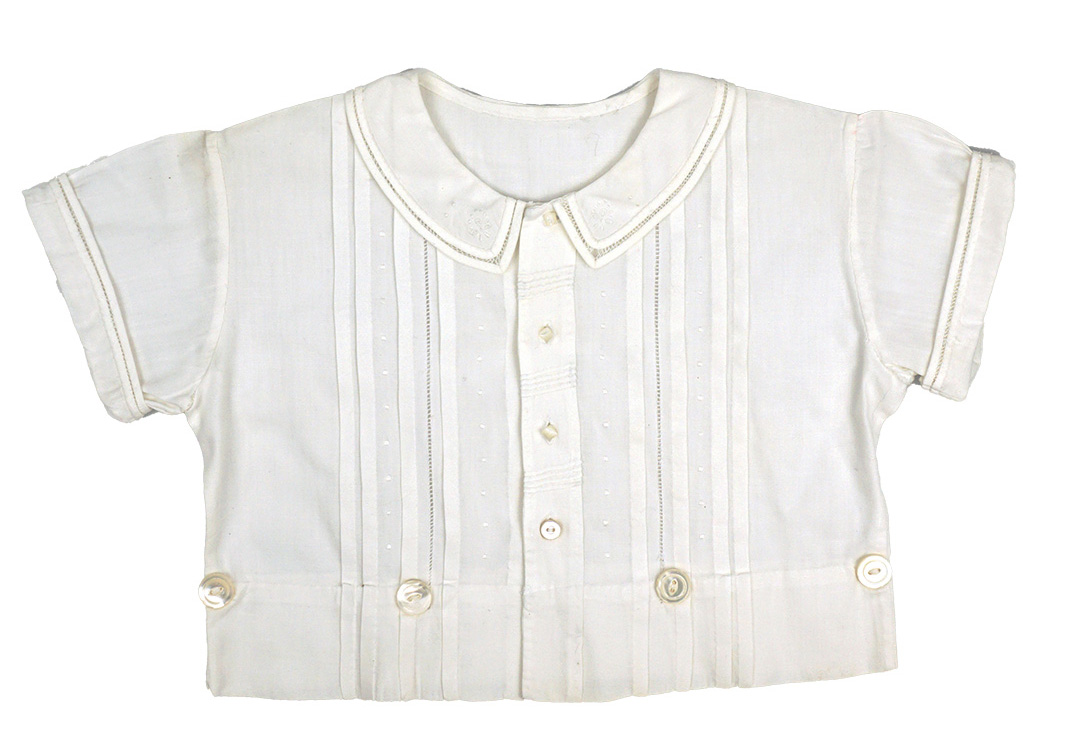 The preferred fabric for many special occasion heirloom garments is 100% cotton Swiss batiste. It is lightweight, sheer, and silky yet crisp to the touch. You'll find many qualities of cotton batiste on the market. What sets Swiss batiste apart from other batiste is its glossy finish that looks a little like satin. Switzerland has long been a leader in the development of textiles and the machinery to produce textiles. Swiss fabric manufacturers are members of the Swiss Textile Federation, which promotes quality standards in all phases of the manufacturing process. The quality of a fabric is determined by all of its elements: the raw fiber, the yarn, the weaving technique, the finishing. Swiss batiste is densely woven with long staple combed cotton yarn and mercerized for a lustrous, silky finish.
Generally, Swiss batiste is not available in big box fabric stores. And many of us don't have access to local independent fabric stores that carry these fabrics. The good news is that these beautiful fabrics are available online. But buying fabric online can be frustrating if, like me, you learned to choose fabric by feeling it.
Swiss batiste can be a bit pricey too, and it wrinkles easily, as do most 100% cotton fabrics. There are less expensive fabrics available that aren't Swiss textiles, and there are also polyester/cotton blend batistes that wrinkle less. More on the alternatives later. Let's say for now that you have an unlimited budget, and you want the best!
Historical Note:
Batiste, nainsook, and cambric are sometimes used synonymously but were similar yet different fabrics historically.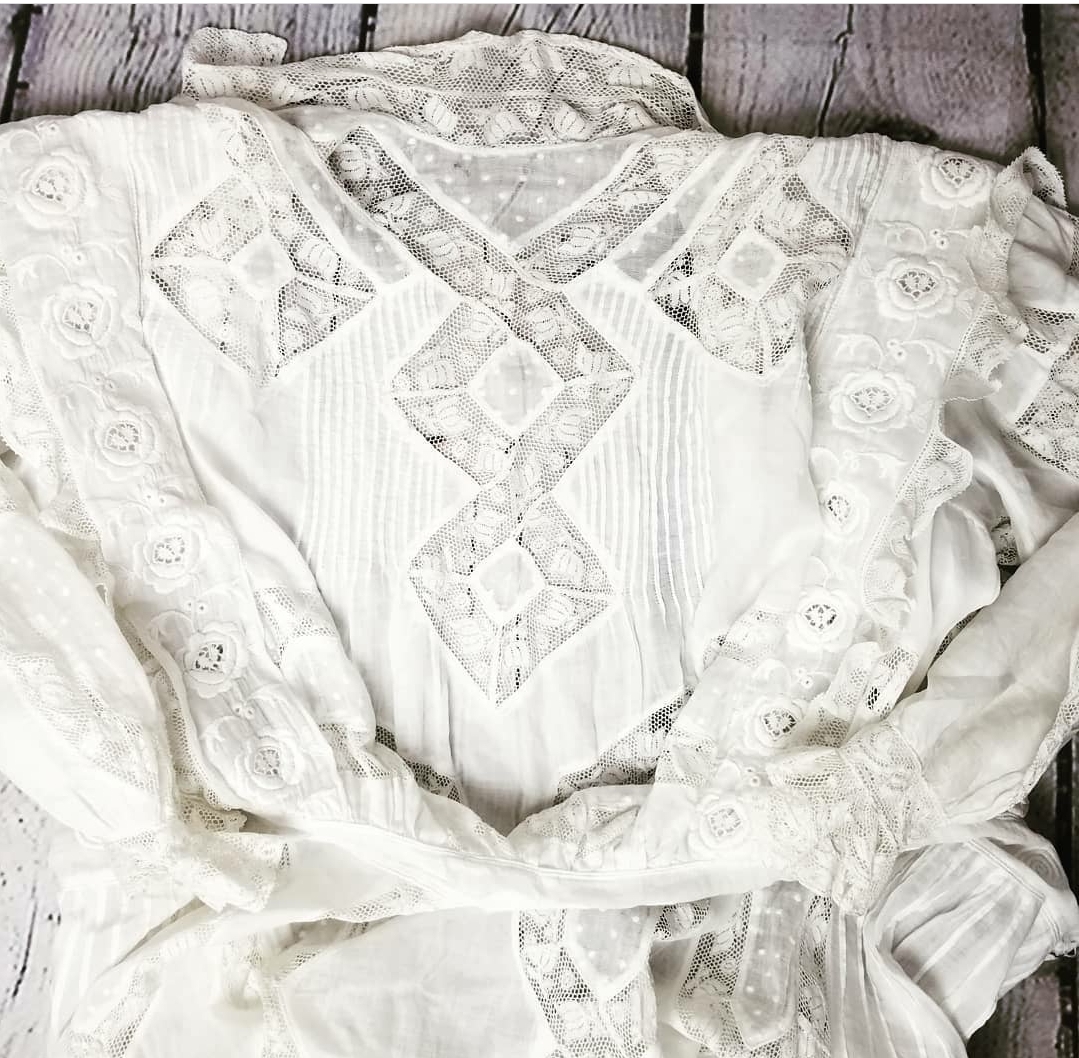 How to Find Authentic Swiss Batiste
First, be aware that if you find a fabric online that is called "Swiss batiste," it might not be an authentic Swiss textile. Even in the early 1990s, Swiss batiste didn't always refer to batiste that was produced in Switzerland. The term "Swiss batiste" is sometimes used to describe any batiste that is similar to Swiss batiste in construction and appearance. A more accurate descriptor for those fabrics is "Swiss style batiste."  Authentic Swiss textiles can be identified by gold lettering on the selvage that says "Made in Switzerland." However, the lettering may only appear every 2 yards or more, so you may not get a piece with gold lettering. Contact the shop if you're not sure.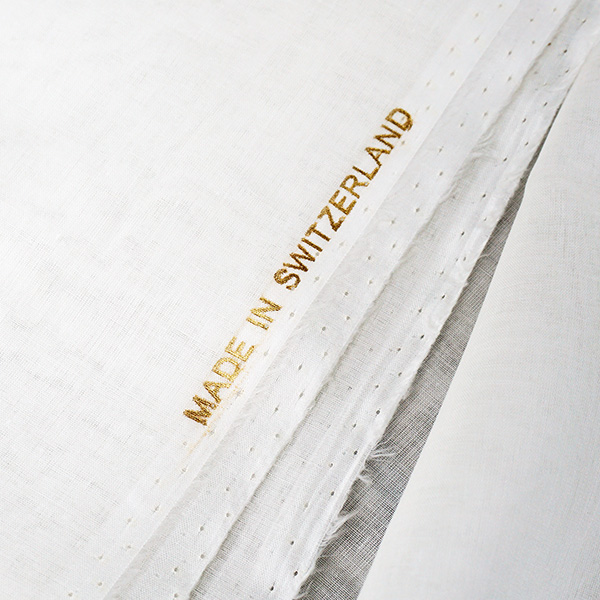 The phrase "produced in Switzerland" may not mean the same thing that it meant 30 years ago. Swiss batiste travels through several countries from cotton seed to finished goods. Not many mills handle all stages of fabric production anymore. The last cotton spinning mill closed in Switzerland in 2016.  Switzerland has continued to be the leader in research and development, but other aspects of fabric production have been moved to other countries. A Swiss textile begins in Switzerland with the development and design specifications. The cotton for Swiss textiles is grown in India, spun into yarn in Turkey, woven into fabric in Egypt, dyed and finished in Switzerland.  Yes, that lustrous finish is still produced in Switzerland.
The term "Swiss cotton" simply refers to a cotton Swiss textile. It is not a type of cotton fiber, nor is cotton grown commercially in Switzerland. Swiss textiles use yarn that is spun from long staple cotton fibers, harvested from the cotton species G. barbadense, commonly called Sea Island, pima, or Egyptian cotton. The fibers of this species of cotton plant are longer and softer than the more widely used variety Gossypium hirsutum, commonly called upland cotton. There are dozens of hybrid species of cotton, but only four are grown for commercial production.
If you have shopped for Swiss batiste online, you probably came across Nelona batiste. Nelona was originally produced by J.G. Nef-Nelo, Ltd.  The company that became J.G. Nef-Nelo, Ltd., began as a trading company in 1805 and survived five generations producing fine cotton fabric in Switzerland. They went out of business in 1995. The trade names "Nelo" and "Nelona" are in the public domain, which means they can be used by anyone. In her book French Hand Sewing by Machine, published in 1983, Martha Pullen talked about the three types of Swiss batiste (Finella, Finissima, and Nelona) produced by J.G. Nef-Nelo, Ltd.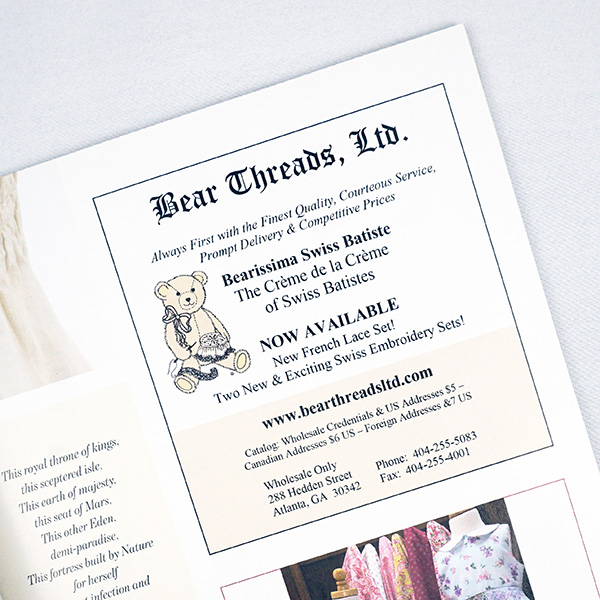 Jim and Sheila Nicol opened Bear Threads, Ltd., in 1983 and eventually began working with mills in Switzerland to produce their own fine batiste to rival Nelona. They also acquired the inventory of the H.G. Giger Co. of New York, including Giger's 9223 Swiss batiste. Bearissima I, Bearissima II, and 9223 became the "crème de la crème" of Swiss batiste.  Sadly, Jim Nicol died April 16, 2021. Sheila sold the remaining inventory and closed the business in December 2021, after 38 years importing fine fabrics from Europe. There is still some Bear Threads, Ltd. inventory left in various heirloom shops around the U.S.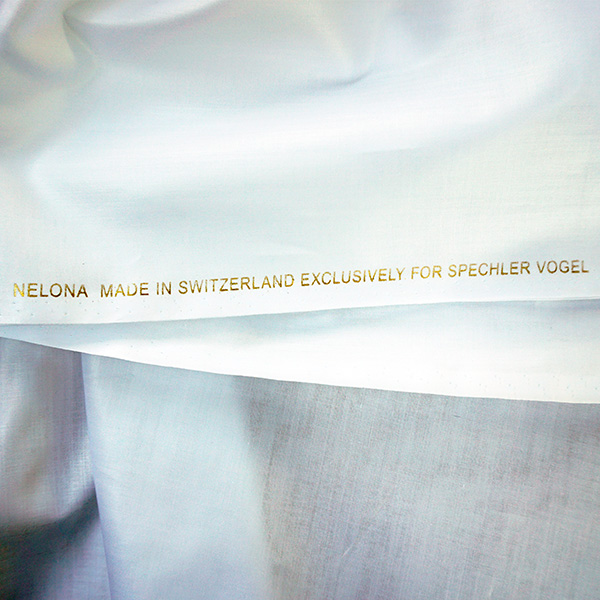 Capitol Imports produces several fine Swiss fabrics.  Their Nelona batiste is comparable to Bearissima I. Capitol's heirloom batiste is comparable to Bearissima II.
Spechler Vogel also produces a Nelona batiste. Their white Nelona is a Swiss textile and has that beautiful sheen. The colors are now made in China. Spechler Vogel's white Nelona has a bit more body to it than Bearissima I and Capitol's Nelona. It reminds me a little of satin.
Fairy fabric is a very lightweight and sheer Swiss muslin. You will notice that is called both fairy batiste and fairy muslin. It is the sheerest muslin or batiste available.
Alternatives to Swiss Batiste
If your budget doesn't allow for Swiss batiste, there are few alternatives. Many heirloom sewers love Spechler Vogel's Imperial batiste because it doesn't wrinkle as much as Swiss batiste, and it's much more economical. Imperial batiste is 65% polyester, 35% cotton. Spechler Vogel has a lovely satin batiste as well. You can also find very reasonably priced 100% cotton voile, 100% cotton petticoat batiste, and 100% cotton lawn, which make lovely heirloom and historical garments. If you like the sheer, light and airy look of a Swiss batiste like Bearissima I, your best affordable alternative will be cotton voile. If you like a less sheer look, your best alternatives are Imperial batiste, cotton lawn, or satin batiste.
Let's take a closer look at some of these fabrics. Keep in mind that when the fabric is gathered into a skirt, it won't appear quite as sheer as it does in these photos.
And finally, once you find a fabric online that you think is perfect, ask the shop to send you a swatch so you can be sure it's what you're looking for.
I hope you enjoyed this deep dive into Swiss batiste. There are also many other beautiful, timeless fabrics that are a joy to sew with:  organdy, dotted Swiss, handkerchief linen, pique, seersucker, dimity, and more. Enjoy shopping and, of course, sewing!