How can you tell how old a dress is?
Have you ever been to Taft, California? Probably not. Downtown Taft spans about two blocks at most and has one landmark worth noticing: an old Fox theater. Hamburger stands are the best choices for dinner fare. But you can't beat Sno White's fries and a good ole American burger with shredded iceburg lettuce. But I did happen to find something spectacular in an antique store there. A spectacular mystery. I pulled out a large piece of blue velvet from an old musty cardboard box filled with various fabric scraps. I looked at it, thought: "Yep, I'll take this if it's cheap enough. Might be enough here to make something. Maybe it's silk." Got it for $5.00.
First of all, if you're into vintage style and like vintage fabric and textiles, or if you like to sew with vintage patterns, or if you are fascinated by antique gowns, you'll want to keep reading to find out how I solved the mystery!
A deconstructed antique dress.
When I got home with my large vintage fabric "scrap," I looked at it closely and realized it was still a dress, albeit not a whole dress. But there was enough of it left to pin to my dress form and see how it looked when it was new and complete. Surely this couldn't be an authentic Regency gown, could it?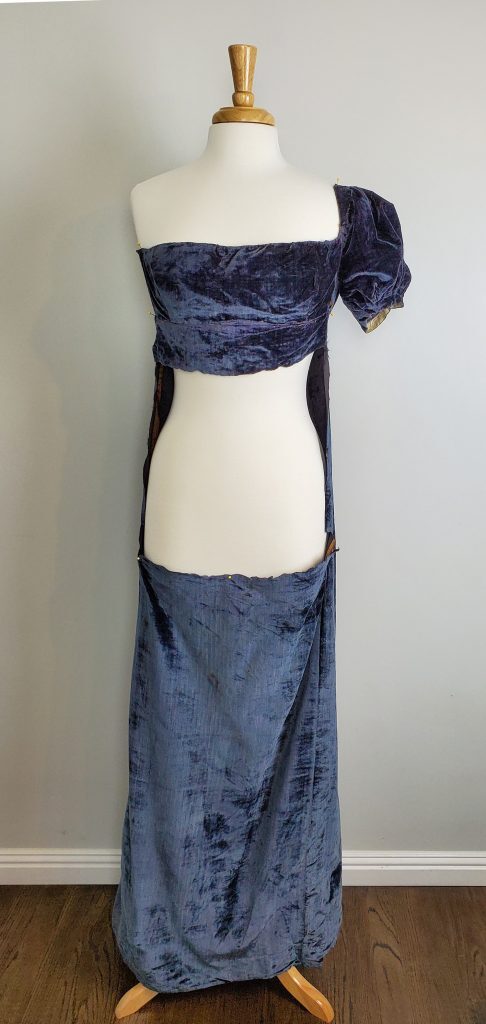 Now to investigate. Was the dress really made over 200 years ago, or is it a newer costume piece? It is obviously not modern. Just looking at the fabric, construction and the age-wear, it is most certainly no newer than early 20th century. In fact, it was suggested by at least two people that perhaps it was a 19-teens empire revival costume. If you're an expert in antique textiles, please weigh in!
The idea of its being a costume.
Constructing 100% historically accurate costumes for period movies or theater is a relatively new practice from what I have seen. If you don't believe me, check out Sergeant Troy's bell bottoms in Far from the Madding Crowd from 1967, which takes place in the late 19th century.
Or look at the ladies' dresses in Quality Street filmed in 1927, which takes place in 1805. In fact, I would guess that the practice of paying more attention to historical accuracy in film costuming began in the 1980s with movies like A Room with a View. I would love to hear your thoughts on this subject.
Check out these quotes from Historic Costume for the Stage by Lucy Barton, published in 1935 .[1]

Some cheap goods can be treated to give the effect of expensive fabrics……. Velvet is most satisfactorily "faked" by an uneven, spotty dyeing of flannelette or terry cloth…

Barton, Lucy. Historic Costume for the Stage. Boston, Walter H. Baker Company, 1935.
Many garments need to be lined.

Except at skirt-hems, machine-stitching should be employed whenever possible, for greater security.

Ibid.
Let's look at the stitching.
The silk velvet dress is entirely hand stitched and the stitches are a bit sloppy. The dress is not lined, nor is there any sign that there ever was a lining. In fact, I see no evidence that any alterations were ever made to it, unless you count cutting out a huge rectangle an alteration. There are three places that are faced with white silk: the shoulder straps, sleeve band and the waist drawstring casing. These all appear to be intact as originally sewn. All seams are sewn with a running stitch or back stitch with about 1/4 ″ – 3/8 ″ seam allowance. I found two types of thread. One looks brownish in color and is a sturdy thread. I burn-tested this one and believe it to be silk or cotton. Another lighter weight black or dark blue thread was used on the hem. It is possible that later repairs to the hem were done, and it is possible that the original maker used two different types of thread.
I ran across a blog "A Frolic Through Time" that dissects Regency gowns and quotes Jennie Chancey of Sense and Sensibility who said this of Regency era extant garments:
One of the most eye-opening revelations to me when I began studying extant garments from this time period was how "un-standard" the seam finishes were!
With all the careful, intricate embroidery on the outsides, I'd often turn to the inside of the gown to be shocked by what looked like really sloppy hand sewing – long running stitches, raw edges left unbound, odd shortcuts taken.
Next, let's look at the bodice design and construction.
The bodice is only 4.5″ vertically from the waist seam to the top edge of the neckline. The neckline is a narrow self-casing with a drawstring that is a pink raw silk ribbon. The ends of the ribbon are attached at the side seams and the ribbon is pulled and a loop is tied in the middle of the bodice on the inside of the dress. There are two bust darts. There are drawstrings that attach at the sides of the bodice back and waist and tie the bodice back together. These drawstrings are black raw silk ribbons.
There is a curved side seam in the back that is typical of the Regency era. The sleeves are sewn with two pieces, and upper sleeve and under sleeve. The upper sleeve is full 19″ width of fabric with selvages intact, so that would have necessitated using a two-piece sleeve construction. The sleeve cap has one inverted box pleat at the center and seven pleats on either side folding from each end in the direction of the center. There is also an interesting detail at the box pleat in the center. An oval was cut out and another piece of fabric was pieced in. It appears to be part of the original construction and I'm not sure of the purpose. If it was decorative, it was a failure because it blends in. Perhaps it was to repair an accidental cut in the fabric? Because the other sleeve is missing, it's hard to know the reason.
As for the large rectangle cut out of the stomach area, I have a feeling this was simply to remove a damaged piece of fabric from an otherwise lovely scrap of silk velvet when it was in someone's fabric stash. There are remnants of glue or candle wax or something similar right around the edges of the cut rectangle. There is no evidence that there was any embellishment anywhere on this dress. I don't believe there was a random section of beading or embroidery right there on the stomach area; although, anything is possible.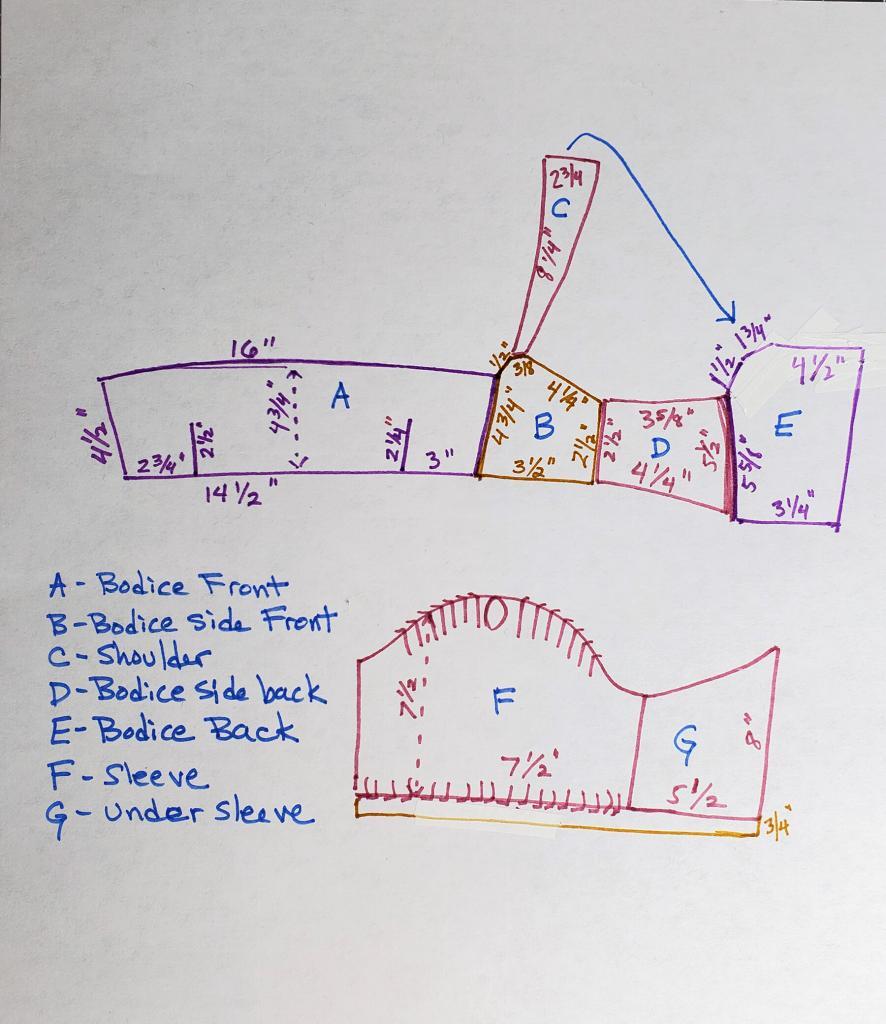 Take a look at my Pinterest board "The Velvet Experiment" for extant pictorial references.
Finally, let's look at the skirt design and construction.
The selvage edges are intact on the silk velvet fabric wherever possible. The skirt front panel is a full width of silk velvet 19″ wide with selvage edges on each side of the fabric. The back has five pleats at the waist. There are two triangular gores on each side of the skirt back that provide fullness to the back of the skirt. The two larger gores are sewn in with the velvet pile going the opposite direction than that of the rest of the dress. The skirt is trained. The train is not a continuous curve to the front of the skirt. It is almost a square train that begins at the side seam. The hem about is 1/4″ – 3/8″.
And what about the silk velvet?
The exquisite silk velvet fabric. Thanks to the discovery of this dress, I am now obsessed with silk velvet. It is so lovely. The drape of the velvet that makes up this dress is truly unmatched by anything I have yet to find. The color is difficult to capture with a camera. It is a dark steel navy blue with striations of light and dark and a goldish undertone. As noted above, the fabric is 19″ wide with selvage edges intact.
How do I know it's silk you ask? Good question. Check out the videos of the burn tests on Youtube and tell me what you think!
If you're someone who appreciates the best natural fiber textiles, you might be wondering where on earth you can find 100% silk velvet. Well it isn't easy! And buyer beware! There are many fabric stores and vendors who will tell you they carry "silk velvet" when they really have velvet that is 82% rayon and 18% silk (for example). Some of these blends are still quite lovely, and they don't cost as much as the real deal.
Of course, you may be a little hesitant to buy velvet from online fabric store. Well, keep an eye out on Sew Vintagely's dressmaker collection for some exquisite velvet that might appear there in the fall.
So how old is the dress?
Yes, I believe the dress is authentic Regency. A beautifully simple blue silk velvet Regency gown made sometime around 1800-1810. I believe the train and lack of embellishment places it closer to 1800.
The nice man who sold it to me only knows that he probably bought the box of fabric scraps from an estate sale in Taft. I wonder what life this dress lived before it found its way to the Petroleum Highway, or to California for that matter? I wonder if it was inspired by Dolley Madison's red velvet dress?
Or did it come all the way from Europe, having been inspired by the reports in The Lady's Magazine about the velvet dresses worn by the royal family? In 1810 Princess Mary wore "a dress of garter blue velvet." Hmmm….
What do you think?